A friend of mine introduced me to a meal service called Every Plate. With the promo code (CLICK HERE FOR $20 OFF) I was able to try this service for $10. It included three, two serving meals.
I have recently started doing weight watchers (CLICK HERE FOR A FREE MONTH)so the points weren't worth the meals for me but I did sneak a bite of everything in order to give a true review.
First thing you do when you go to the site is pick the meals you want delivered for that week. There were lots of great options which I liked.
Please note, when you sign up it's a reoccurring service and if you don't cancel they will simply select your meals and charge your card for you. I have since deactivated mine so that doesn't happen. When I'm ready to order again I just log in and hit activate to be able to chose my meals and order again for the week.
Meal One: Honey-Crisp Pork Chops.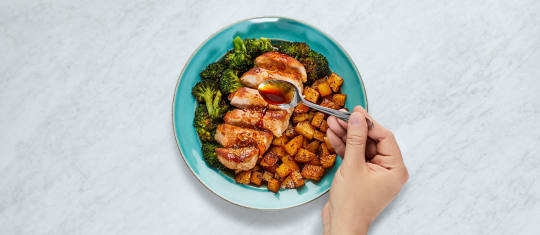 Ya'll.
My family gave everything about this meal two thumbs up! It was easy, delicious, and I could easily make it again on my own.
That's what I love the most about this service, everything is fairly easy to replicate on your own without having to go through the service again. Just keep the instructions card and you're all set.
Fun fact: I've never made broccoli that wasn't from a bag, ever. Nor have I ever cut potatoes and cooked them. This made it EASY. And I'm in LOVE with cooked broccoli. I'll never go back to the frozen kind again (that's a lie, I'm still a working mom…)
Meal Two: Lemon Chicken Linguine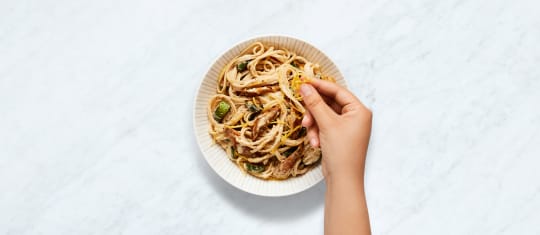 This one was not my favorite… mainly because I'm not a lemon girl.
I also am bad at cooking zucchini… it's a real struggle ya'll.
Keith  however liked it a lot! Bryson won't touch anything with zucchini which is fair.
It was still super easy to make, two dishes total, and I would still say it was better than any other pasta I've attempted to make…
Meal Three: Cheesy Corn Bisque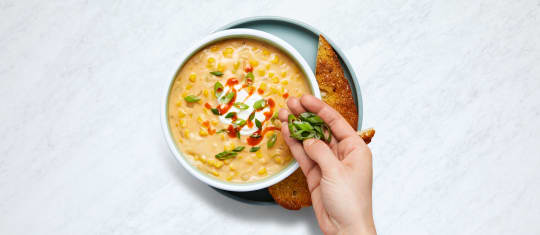 This was hands down my favorite.
And ya'll. The even sent the milk that was called for to make this recipe… I mean, yes!
So creamy and  yummy. If you aren't a fan of corn (like my husband) it probably won't be your favorite but I enjoyed every bite I had of this!
It was also, by far, the easiest to make!
So, that's my review. I would definitely try this again, especially if there were healthier options for myself. But it's also fun to try new recipes and my boys loved eating new food! So, still a win in my book.